Only our milling machines can effectively manage in-growing roots and concrete in pipelines
We select the appropriate milling machine depending on the type of obstacle and the size of the pipeline. We use milling machines for overgrown standpipes and house connections with leaked concrete or in-growing roots. Our large milling machine features a controlled milling machine designed for milling roots and hardened obstacles in water mains.
Milling machines for standpipes
We use various types of milling machines, from chain milling machines to milling machines with pushing heads. These milling machines are fixed on different sizes of spirals according to pipeline diameter and the state of the blockage.
Milling machines using pressurised water
These milling machines are used for removing roots and hardened sediment in pipelines. They can be used from DN 100 up to DN 600. Our milling machines are powered by pressurised water and operate via chains or spiked pushing heads.
These milling machines are notable for the speed with which they remove obstacles. However, their activity is difficult to monitor which means they are unsuitable for certain kinds of pipelines.
Controlled robotic milling machines
Using these milling machines, we are able to grind obstacles found in pipelines, such as neck overlaps, stuck objects, in-growing roots, concrete leaks, etc.
The great advantage of the robotic milling machine is that its milling activity can be monitored. These milling machines are also used for trenchless pipline repairs, e.g. when milling dead branches.
Robotic milling machine for small profiled pipelines
The most common use for this milling machine is in household connections where it can effectively handle pipe elbows. It is suitable for pipelines from DN 100 do DN 250mm.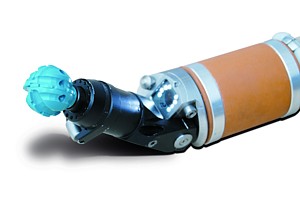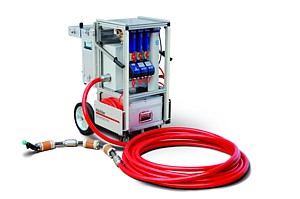 Mobile-controlled milling machine for larger profiled sewers
We use this milling machine for milling obstacles found in water mains. It is suitable from DN 225 to DN 600mm.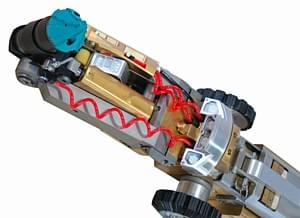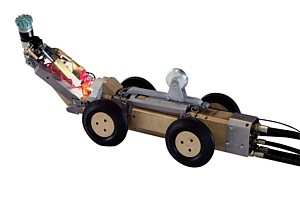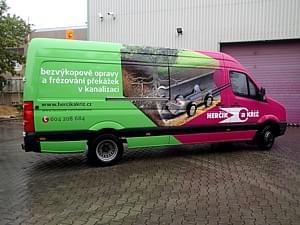 Order our services and solve your sewage problem